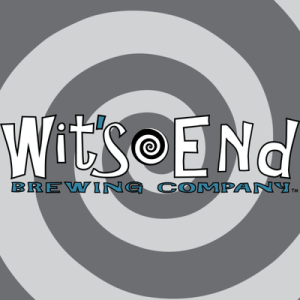 Wit's End Brewing Company is located in Denver, CO, and is a self proclaimed "Impossibly small Denver nanobrewery fueled by dreams and inspired by the limitless potential of craft beer." Wit's End was started by Scott Witsoe, a transplant from Seattle, WA. After coming to Denver, Scott realized there was a beer culture similar to Seattle, and the dream of starting a brewery was born.
The moment the light bulb turned on for Scott Witsoe was when he first attended the Great American Beer Festival (GABF). Scott had seen the event on TV, but always thought it looked gimicky, basically like an informercial. There was no way this event was as great as advertised…well maybe it really was. Scott couldn't believe the amount of brewers, the different types of beer, and all the people that were so passionate about craft beer! The wheels started turning, and Scott began dreaming about becoming a brewer.
As Scott became more familiar with Denver, he quickly found great local craft beers. Great Divide became his favorite craft brewery, and happened to be in Scott's neighborhood. Avery, another local brewery, turned Scott onto Belgian style beers. After getting some ideas and trying different types of beers, Scott began tinkering with his own recipes via a homebrew kit he acquired from his father-in-law. The kit had been collecting dust, so Scott simply needed to dust it off and pick up ingredients to make his first homebrew. Scott's hombrewing quickly got him excited about opening up his own brewery. As Scott describes it, "opening the first beer, hearing the sound, and smelling the first beer, I knew what I wanted to do." By his 5th homebrew batch, Scott filled his first keg. Scott's friends tried his beers and the response was great…it was time for Scott to realize his dreams. 
Scott was laidoff from his job in the MMA industry in March 2011. It was at this point that Scott, and his wife Heather decided it was time to pursue his dream full-time. They made the decision to go through the difficult process of starting a brewery with no back up employment to fall back on. As Scott put it "Without the support of my wife, I would not be doing what I am. She has supported me completely, and she deserves a ton of credit for that!" After months of paperwork, planning, inspections, licensing, painting, construction, and a lot of long days, Scott and Heather officially opened Wit's End Brewing in September 2011! Immediately, Scott realized how much he enjoyed watching people build relationships at Wit's End, and he knew he was finally doing what he was meant to do.
Wit's End is a small taproom that offers up fresh beer, and a neighborhood feel that is hard to find these days. Scott has placed an emphasis on fostering conversation instead of sitting and staring at TVs like at a typical sports bar. Each person that came to Wit's End during our visit was personally greeted by Scott, and made to feel at home. If you want to enjoy a beer at a fun, friendly taproom, Wit's End is a great place to go.
Scott has creativity that shows in his beers. With names like "Jean Claude Van Blond" and "Mick Jaggery" the beers at Wit's End offer options that are a little outside the box. Standards are not necessarily followed, and are not meant to be. Scott has made an effort to do things his way, and does not worry about following institutionalized "style" guidelines. It's more fun to do something different, and to create a unique recipe.
Beer List: Our favorite beers were the Wilford, and the Green Man Ale! The Wilford won an Award at the Colorado State Fair. The Green Man Ale is Scott's oldest recipe and was modeled after the 1st craft beer he had in Seattle (Redhook).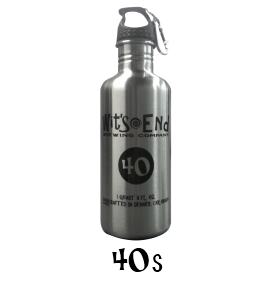 If you head down to Wit's End, you can try many different beers from the tap. Availability changes from time to time, but there are always some great options to choose from.
If you want to purchase beer to take home, Wit's End has a really cool option. They have 40oz. stainless steel "40s" that are very popular. In fact, Westword awarded Wit's End with the "best new beer to go idea" for their 40s. You can even find Wit's End's 40s in the A-Z exhibit at the Colorado History Museum in the beer section. Wit's End will also fill any seal able container with the beers they have on tap, so bring in a growler, Nalgene, or any other seal able container.
Jean-Claude Van Blond: Inspired by the action hero in all of us. It features a Belgian yeast strain and is built on a lighter malt profile with just a touch of oats for a silky body and some additional depth. You will find this beer intriguing and hard to define—which is just the way we like it.
Wilford: Introducing the Belgian Oatmeal IPA! Flaked oats play a major role in this Belgian-American porridge. Pungent spicy noble hops, citrusy American hops, and a Belgian yeast all wrapped up in a silky blanket of oats–yes please! We will not make any claims as to the health benefits of using oatmeal in beer, but if there are any, then…it's the right beer to drink, and the tasty way to do it!
Super FL I.P.A. : A no nonsense Black IPA—can you dig it? This bad-ass beer features nine different malts, as well as a combination of Columbus and Cascade hops. After the fermentation, it is then dry-hopped and rests on just a touch of real cedar wood chips. The game it plays it plays for keeps!
Green Man Ale: Inspired by the malty and hoppy beers of the Great Northwest, Green Man Ale is a rich and layered beer that lies somewhere between an IPA and a Red Ale—not exactly radical, but not quite the conformist, Green Man Ale just is.
Kitchen Sink Porter:

What started out as a basic porter recipe evolved by adding a little bit of this and a little bit of that, using a wide variety of malts not typically seen in a porter. This includes various types of rye and a dash of smoked malt. The result—a roasty, spicy, chocolaty glass of goodness. We just threw in the Kitchen Sink moniker for good measure.

Experimental Beers: There are many of them…probably too many to list here! Check out the beer list or see what is available when you visit. The experimental beers are available from time to time. To view Wit's End's beer list, click here
We had a great visit to Wit's End Brewing, and were impressed with the beers, and the passion behind the making of them. Scott Witsoe has created a great environment to enjoy a beer, or as he puts it "slow beers for fast times." Wit's End is all about personality, and making it enjoyable for people to visit. If you're looking for an unpretentious environment, and are open to exploring new types of beers, Wit's End would be a great taproom to visit. Thanks for the hospitality Scott!
Wit's End Brewing Company
2505 W 2nd Ave. Unit 13
Denver, CO 80219
http://www.witsendbrewing.com/
Taproom Hours
Thursdays
4:00-8:00pm
Fridays and Saturdays
2:00-8:00pm
Sundays
2:00-6:00pm