The makers of Colorado Native Lager are at it again. Their latest creation is called Olathe Lager, and is a great example of a craft beer brewed with Colorado ingredients. Just in time for the Colorado harvest, AC Golden Brewing Company introduces a first-of-its-kind beer, Olathe lager, a German-style lager brewed with Olathe hops, corn and barley.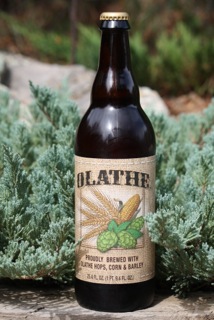 "The corn, barley and hops were all grown within one mile of each other in Olathe," said Glenn Knippenberg, president of AC Golden Brewing Company. "We brewed this lager to celebrate the harvest season and all the men and women who work so hard in agriculture in the state."
The beer's ingredients include Charles two-row winter barley malt, world-renowned Olathe sweet corn, and Crystal and Nugget hops from Misty Mountain Hops Farm. The result is a German-style lager with a very balanced taste. "We want folks to know that when they enjoy this beer, they are celebrating and helping to support the hop farmers and barley growers of Colorado," said Knippenberg.
The beer's label resembles burlap and prominently features the name. The label reads: "Whether its fruits, vegetables, grains or hops, the fertile ground from Fruita to Palisade, and down to Montrose and from Paonia to Delta produces world class agriculture. "Home grown" is important to us.  We're the brewers that brew Colorado Native Lager from ingredients grown only in Colorado. To celebrate the harvest season, and the area's rich agriculture heritage, we brewed this golden lager as a tip of the hat to those who work the ground to feed us all."
Olathe beer is available in draft and in 750 ml bottles (25.4 fluid ounces). Only 1,440 bottles were produced. It's available in Cedaredge, Delta, Grand Junction, Hotchkiss, Montrose, Olathe, Palisade and Paonia while supplies last.
AC Golden Brewing Company, located in Golden, Colo., is a small brewery that handcrafts beers for discerning drinkers.  The company also brews Colorado Native, the only lager brewed with 100 percent Colorado ingredients, including barley grown in the San Luis Valley, hops grown 100 percent in Colorado, Rocky Mountain water and the oldest variety of brewing yeast in the state.