The Yak & Yeti Restaurant & Brewpub is located in Arvada a few blocks from Olde Town. Yak & Yeti operates from within what was once a historic Victorian Mansion, and has been transformed into one of the most unique places in Colorado to enjoy a freshly brewed craft beer. On top of the fresh craft beer served up at Yak & Yeti, visitors can also enjoy Indian and Nepalese Cuisine that is among the best in the State of Colorado.
The original structure at the present day Yak & Yeti Restaurant and Brewpub was built in 1864 by a man named Eli Allen. Allen was the second postmaster in Arvada, having taken over for Benjamin Wadsworth, who was the first postmaster in Arvada (Wadsworth is also where the name for Wadsworth Blvd came from). Eli Allen lived and worked out of the home until his son moved in and added onto the original home in 1891. The story of the home is quite interesting and includes stories of being haunted. For more information on all the history of the Yak & Yeti mansion, visit the About Us page on Yak & Yeti's website.
The story of Yak & Yeti Brewpub is much more recent than the building it is located in. Yak & Yeti celebrated its 5 year anniversary as a brewery in 2013. Prior to being Yak & Yeti, an English brewpub called the "Cheshire Cat" operated out of the building. When Yak & Yeti first took over the building, they were not a brewery and the Owner, Dol Bhattarai, nearly sold all of the brewing equipment that came with the purchase of the building. Yak & Yeti had been operating a successful restaurant in Westminster, and was simply looking for a second restaurant location. After considering the possibilities of running a brewery, Dol decided to keep the brewing equipment, and to hire a brewer. Many people wonder how an Indian restaurant got into brewing – now you know.
Adam Draeger has been the head brewer for the Yak & Yeti Brewpub since 2011.  A Wisconsin native, he did his undergraduate work in Engineering Physics.  After a decade of engineering and homebrewing, he took the plunge to change careers.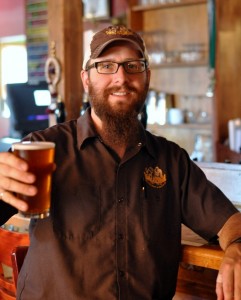 Adam studied at Siebel Institute in Chicago, IL and the Doemens Academy in Munich, Germany where he received his International Diploma from the World Brewing Academy.
When Adam took over the brewing operations, Yak & Yeti only had 3 beers on tap, and Adam made it his goal to change that. Adam is a fan of craft lager beers, but has done a great job of having a mix of different types of beers. I spent a couple hours taking the tour of the historic mansion, and getting a taste of many of the fresh beers Adam has created. It was evident in my visit with Adam that he's a guy that loves beer, and he loves to talk about beer (he's also very good at brewing beer). Yak & Yeti offers a well-diversified portfolio of beers on tap ranging from Belgian-style beers, German lagers, American ales, English ales and several specialty and seasonal offerings.
Wheat Beer Series – Brewed in the summer, a new beer is tapped weekly with fresh fruit served right in the keg.
Porter Series – a new beer is tapped weekly, but focuses on fruits, adjuncts and spices that compliment porters.
The Haunted Beer Series – Adam's stage for debuting small experiment pilot batches that range from Russian Imperial Stouts to White IPA's to spruce beers and many other. The series gets its name from the stories of Yak & Yeti being haunted.
Beer List: Yak & Yeti offers 6 standard beers, which are available all year. They also offer some great seasonals (including the Oktoberfest, which was awesome). Below is a list of the standard beers you will find at Yak & Yeti. To view the entire beer list, visit their Crafted Beer Page. Yak & Yeti won't be found in liquor stores, but can be found around Denver at many taphouses that specialize in craft beer. If you want to take some fresh Yak & Yeti beer home with you, they have growlers available for any of their standard beers, and whatever seasonals they have on tap. 
Namaste Pilsner – 5.1% ABV. ~ 34 IBUs (available year round)
Our Pilsner is a Northern German style hopped with German Tettnanger hops. Third Place winner at 2011 Colorado State Fair.

Himalayan IPA – 6.3% ABV. ~ 70 IBUs (available year round)
Our 2010 GABF-winning India Pale Ale is dry-hopped with Columbus and Cascade hops right before being transferred into the serving vessel. This isn't East-coast or West-coast style IPA but rather pure Rocky Mountain gold.

Chai Milk Stout(*has lactose) – 5.2% ABV.~30 IBUs (available year-round)
This stout is our flavored version of the milk stout. The Chai tea spices are the Yak and Yeti's own blend. A perfect dessert drink.

Jalapeño Lena – 5.1% ABV. ~ 34 IBUs (available year round)
A light-colored but full flavored Jalapeño pepper beer. Huge fresh aroma from the pepper served right inside the keg! Some say it isn't that hot, others can't handle it. You decide. We also make red beers called Bloody Lena's!

GF Apple Ale – 4.9% ABV. ~ 0 IBUs (available year round)
GF stands for gluten-free as this ale is made iwht cider and sorghum. Looks like a cider, tastes likes a cider but is still technically an ale. (a hop pellet for good measure)

West-Coast Glutton (DIPA)- 9.5%ABV.~150 IBUs (available year round)You like them RED, BIG & Hoppy?! This Double Red/DIPA is a Centennial and Cascade-hopped behemoth that gives some unique citrus and resiny flavors/aromas.
Beer Festivals: Yak & Yeti is an active participant in beer festivals across the state. Here are a few places you will most likely find them:
GABF (Great American Beer Festival) – Denver, CO
Vail Big Beer Festival – Vail, CO
Brewers' Rendezvous – Salida, CO
Epic Beer Festival – Denver, CO
Awards: For a small brewery, Yak & Yeti has picked up some big awards. Here's a list of what they've won, and where the won it.
2010: Gold Medal for the Himalayan IPA (American Style Extra Pale Ale, GABF)
2011: Bronze Medal for the Namaste Pilsner (Pilsner category, Colorado State Fair)
2012: Bronze Medal for the Honey Ginger Soda (Soda category, Colorado State Fair)
2013: Bronze Medal for the Honey Ginger Soda (Soda category, Colorado State Fair)
2013: Silver Medal for the Chai Milk Stout (Urban Spiced, GABF)
2013: Bronze Medal for the Himalayan IPA (Fresh Ales/IPA/DIPA), Colorado State Fair)
I had a great visit with Adam and learned a lot about Yak & Yeti, and the awesome beer they brew. I would highly recommend a visit for the food, and of course for their beer. The atmosphere at Yak & Yeti is truly unique, and one that will impress anyone that has an interest in history. Even those that don't drink beer will have the ability to enjoy a fresh brew – the Honey Ginger Soda is very good. The Chai Milk Stout is one of the most unique beers I've ever tried, and has won awards for good reason. If you love craft beer made in Colorado, a trip to Yak & Yeti is a must! Thanks Adam for the tour, and of course for sharing your fresh craft beer.
Yak & Yeti Restaurant & Brewpub
7803 Ralston Road
Arvada, CO 80002
(303) 431-9000
www.theyakandyeti.com