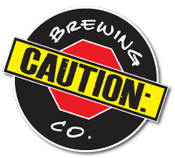 Caution Brewing Company is currently located in Northeast Denver. They announced last week they will be opening a 2nd location, which will be in Lakewood, CO. This 2nd location will make Caution the 2nd craft brewery in the City of Lakewood. Currently Ironworks is the only craft brewery in Lakewood. This is surprising given the fact that Lakewood is Colorado's 5th largest city.
According to their website, "CAUTION soon to be had with more CAUTION! We just announced the lease signing of our second location. Want more details? Come to our anniversary party on May 18th! You can't say no to 16 beers on tap, live music, and big wheel races, right?"
The 2nd location for Caution Brewing will be at 1057 S. Wadsworth Blvd. Unit 60. The new location will have a larger taproom than the Denver location and will be more retail-oriented. Caution's Owner Danny Wang says he plans on being "more hyperlocal," working with area businesses, such as homebrewing shop Barley Haven. This Lakewood taproom is slated to open in October, and will have 12 taps with 4-6 regular, or "flagship" beers. Caution also plan to can and sell Lao Wang Lager in 4-packs of 16 oz cans.
Caution Brewing Company
12445 E 39th Ave #314 Denver, CO 80239
(970) 315-2739
Lakewood Location:
1057 S. Wadsworth Blvd. Unit 60
Lakewood, CO. 80226