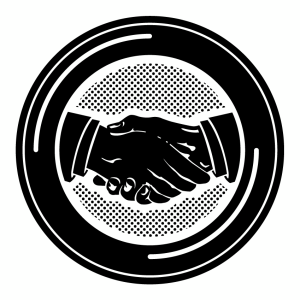 Our Mutual Friend Malt & Brew is a brewery and taproom located in the Five Points neighborhood of Denver. The area around Our Mutual Friend includes a mix of older industrial buildings and newly renovated businesses and residential buildings. The Five Points area has seen a rejuvination over the last few years, and companies like Our Mutual Friend have helped create a neighborhood feel. Our Mutual Friend is a popular gathering place for residents of the 5 points neighborhood, and is also within walking distance from Coors Field and LoDo. We had the opportunity to sit down with Brandon Proff and  Bryan Leavelle of Our Mutual Friend. They shared some excellent beers, as well as the story behind the brewery and taproom.
Our Mutual Friend Malt & Brew was started by a group of friends that were connected by two things; mutual friends, and a love of beer. To make a long story short, some of the founders of Our Mutual Friend had mutual friends with other founders. In a roundabout way the group got to know each other, and their love of beer turned into a brewery and taproom. The founders of Our Mutual Friend had experience in homebrewing. However, it was not always a goal to start a brewing business. In February 2012, the group of founders wanted to start a business together, but were not quite sure what that business would be. In May 2012, when the building Our Mutual Friend is located in became available for rent, the group decided they would get into the brewery business, and began making plans for the brewery and taproom.
There is some disagreement as to when Our Mutual Friend officially opened, but it was agreed that in December 2012, the brewery was open, and the taproom was selling beer from the tap. Our Mutual Friend started with a small budget. Some of the funds needed to officially open the tap room were generated from first brewing and selling beer -hence the disagreement as to when exactly the company began. The owners of Our Mutual Friend started out with the idea that they simply wanted to provide a great place to get a fresh beer. The taproom does not provide a ton of frills, but it is a great place to have a fresh beer, engage in conversation, or simply listen to good music.
A really cool aspect to the brewery at Our Mutual Friend, is that nearly all grains and malts come from within Colorado. Only one malt is not from Colorado – the Munich Malt – and it is only used in about 5% of the beer that is brewed. The goal of Our Mutual Friend is to eventually source all ingredients from Colorado. Bryan Leavelle was proud to mention that he uses Colorado Malting Company as the provider of Our Mutual Friend's malts and grains. By using Colorado sourced malts and grains, Our Mutual Friend believes they have better flavor in their beers than breweries that use malts and grains that are shipped over long distances, and sit in storage for long periods of time.
Another unique part of the brewing process at Our Mutual Friend is the fact that they prefer to roast their own grain. Many brewers view roasting in-house as an unnecessary step in their brewing process. Bryan Leavelle and Brandon Proff both feel that by roasting in-house they are creating beers with the freshest flavors possible. It was noted how smooth each and every beer we tried was. From the Proletariat to the IPA, all of the beers at Our Mutual Friend had a great finish and without a great deal of bitterness.  
Beer List: Our Mutual Friend provides a great lineup of beers, with styles to fit beer drinkers of all kinds. The Brown Ale was our favorite, and has an outstanding flavor with subtle hints of chocolate. The Winter Seasonal 'Winter Warmer' (not listed below) was our second favorite. The Winter Warmer has a rich flavor, but is not overly bitter, and has a nice finish.  
Proletariat Session Ale: The lightest beer at Our Mutual Friend. The Proletariat is for the no frills beer drinker who wants a crisp, clean refreshing ale. It's the only beer named, dubbed in reference to the working class of our capitalist society, the common men and women who are always welcome at OMF. Proletariat highlights the subtle, sophisticated flavors and aromas of the Colorado grown two-row malt and aromatic Gold malt. Pacific Northwest hops create an extremely balanced beer with a beautiful straw color. 4.5% ABV
Saison: The Saison is crafted in the style that originated from beers brewed during the cooler and less active months in Wallonia, the French-speaking region of Belgium, and then stored for drinking by the farm workers during the summer months. Beginning with a surge of fruity aromatics and grapefruit hoppy notes, the flavor of this complex ale tapers off to a peppery, dry finish. 5.6% ABV
Pale Ale: The Pale is the Queen Ale and what started it all for Our Mutual Friend, back in the days of brewing in Bryan's kitchen. It is English style leaning in color and mouthfeel, with medium body and a sweet finish accented by American hops. It's the beer we'd sip on all day if we could. 5.6% ABV
IPA: Dedicated to the Cottonwood, Juniper, and Ponderosa pines of Colorado, the India Pale Ale is a step up from the Pale Ale bitter and more bold. OMF uses all Columbus hops in a nod to their love of pine trees, giving the IPA a fundamental piney-floral kick, with hints of caramel and other earthy toastiness. There's enough bitter for the hophead, but good malt balance for the novice IPA drinker. 7.1% ABV
Brown Ale: OMF's Brown Ale is crafted with patience and chance in honor of the game played on sand diamonds every summer. OMF roasts their brown malt to the same standards found in mid-1800s England, with a rich base that gives hints of chocolate. The beer is then finished with dry hopping to give it a nose as crisp as the pop of a called third strike in the catcher's mitt. 6.3% ABV
Huckleberry Roasters Coffee Stout: OMF collaborated with their neighbors Huckleberry Roasters to craft their stout. OMF starts with a humble American stout and adds Huckleberry's small batch Mexican roast during secondary fermentation for an earthy, light roasted kick. It's a stout as quiet and comforting as a starless night in the country with enough mystery to keep you company for a while. 5% ABV

OMF is planning to hold the Winter Warmer Bomber Party on March 22nd. The Winter Warmer seasonal is being bottled now, and will be available to buy in bombers (22 oz bottles), or growlers. This is a great tasting beer, and the limited quantities of it will sell out quickly. Colorado Craft Brews thoroughly enjoyed this beer, and will undoubtedly head down to OMF for the Winter Warmer Bomber Party. We hope to see you there!
We had a great visit with Bryan and Brandon at OMF. We appreciate them sitting down to tell us more about them, and of course, for sharing their beers. OMF is a great place to hang out and enjoy a good beer made with fresh ingredients, and brewed by guys with a passion for what they do. The atmosphere at OMF is fun and laid-back. With a relatively close proximity to Coors Field there will soon be the buzz of baseball season starting at Our Mutual Friend. On April 5th (Opening Day) OMF will be making available their Spring Seasonal the IPA 2. We recommend heading down to take in the great atmosphere, and of course, a great beer!
Our Mutual Friend Malt & Brew
2810 Larimer Street
Denver, CO. 80205
www.omfmb.com
hello@omfmb.com